Skip to Content
Canine Training in Oceanside, CA
Individualized Training
We pride ourselves on dog training on an "individual" basis. No two dogs are the same and not all of them learn in the same way. Because of this, I do not train with just one method.
I firmly believe that most dogs need the correct balance of praise and correction during training. For a new puppy starting out in the right manner, positive training will work for most…UNTIL they become a little more independent.
There are three important aspects to always keep in mind if you wish to achieve your desired training goals: timing, consistency and motivation.
Timing… Consistency… and Motivation
While training with us you will learn how we use these three simple points to accomplish your goals resulting in a well-behaved dog.
The way a puppy's mom would teach them, and correct them from wrong to right could look harsh to us. But, mom and nature know best, and she has a very short time to get her pups prepared for the big world ahead.
Too many times puppies are offered for sale or adoption at an age way too young, before they should have even been taken away from their mothers. The learning /teaching process is not yet complete but the puppies are scooped up and taken away without the dog training needed for the journey ahead. We then take them home, treat them as we would a child, forgetting they are not human.
Board and Train – $675 a week
This includes boarding and training you supply meals. All board and trains must go through a consultation first which is a $25.00 flat charge.
Common Concerns
Your dog was not born with these bad behaviors, these behaviors that drive you crazy, frustrate you, even make you yell at your dog. Along the way these behaviors were allowed as a puppy into adulthood and this is what your dog knows. Are these bad behaviors things that can be fixed overnight? The answer is no. But, the shortest amount of time you allow your dog to practice these bad behaviors, the quicker the problem can be corrected.
So... the play nipping starts, with those needle-sharp puppy teeth. It doesn't hurt too much so we allow it, confident that our puppy will "grow out of that stage". (Keep in mind a puppy's mom would never allow those needle sharp teeth biting her!) So, imagine our surprise, upset, and annoyance when we find that our puppy didn't grow out of it – and not only that – now our puppy's bite is stronger and the teeth are larger! Our puppy doesn't know this – he's thinking he's the same little guy -but now the bites inflicted during play hurt, are scary or worrying. Did you take the steps to correct and stop this behavior when puppy was just a cute little ball of fluff??
So... how cute is it when your little ball of fluff weighs only a few pounds and his favorite thing to do is to jump on you? It's fun; he's so cute and weighs nothing!! What a great game. You allow it – you even encourage it. You're bonding, after all. He loves you so much! Time flies and now your puppy is 80 pounds, standing 3-4 feet tall on back legs. He still loves you, he's still cute. But it's not fun – not such a great game. Your kids are getting knocked over and, guests to your home are getting an in-your-face greeting. Did you take steps to correct and stop this behavior when puppy was just a cute little ball of fluff??
So... puppy pulled on a leash from the time you got him home. Not too worrying. You're much bigger than he is – plus he's just excited to get where he's going. He's so cute to watch. But now – he's 30 pounds – maybe 70 pounds. Every time you take him on out on a leash you get frustrated with him, he's strong – maybe even strong enough to pull you or your kids over while attempting to walk him on a leash. Walking on a leash is a chore and a nightmare – so you just stop. Did you take the steps to correct and stop this behavior when puppy was just a cute little ball of fluff??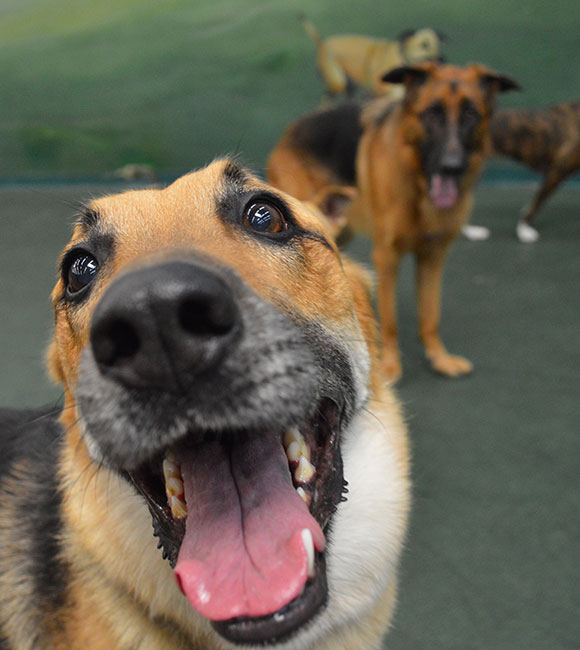 Training for All Ages
Puppy behavior can be shaped and molded – working with sits, stays, downs and heals – using whatever motivates them. This can be treats, praise, play or a favorite toy. As puppies get older independence kicks in. They still want to please you but they become stronger. So what motivated them as a pup may not be quite enough and a stricter training regime may need to be adopted. EVERY dog needs to be evaluated to see exactly what type of training tool and method will suit them.
We always make training fun, helping to build a strong bond between you and your dog. We open the line of communication between you and your dog, keeping it simple and straight forward. You do not have to teach a dog five commands for basically the same request. We teach with simple short commands, and at the end of the day you will not need a bag of treats in your pocket to accomplish what you ask of your dog. A new, stronger bond will be formed, one that you didn't think possible. You will find a new sense of enjoyment spending time together with your dog and a greater sense of respect for you will automatically fall into place.
Private Training Lessons
Carlene is available for private training and behavior modification. Servicing all of North San Diego County; Oceanside, San Marcos, Vista, Carlsbad, Encinitas, Solana Beach, Cardiff, Del Mar, Fallbrook, Bonsall, Leucadia and more.
Schedule Cage Free Boarding or Dog Daycare Today!