Skip to Content
Dog Daycare San Diego
DogSpot offers Dog Daycare services for all of North San Diego County including Oceanside, San Marcos, Vista, Del Mar, Carlsbad, Encinitas, Fallbrook, Bonsall, Leucadia, Solana Beach, Cardiff and other surrounding cities.
If you have to leave your dog home alone due to work, school or any other reasons, our dog daycare San Diego is the perfect solution. Dogs left home alone often become depressed, destructive or noisy. Spending time in daycare is great exercise and is the perfect opportunity to socialize with other dogs and people. Being able to play and interact with other dogs is not only fun, but is scientifically proven to help teach good manners and build their confidence.
Playgroups
As a certified canine behavior and training specialist I can tell you that dogs can teach each other so much and in the right environment it will be a positive tool to be used in your training process. While they play we will help improve the basic manners that everyone wants to see in their dog. Taking them for a walk is great exercise for you but your dog is usually ready to run laps around the house or yard when you get home. Why? They are just getting warmed up!! Playing with their canine friends gives them both mental and physical stimulation so when you pick them up they are ready for some real cuddle time. Having spent all that excess energy, any training you do will be much more rewarding. Keeping it to a fifteen-minute session, your dog will be able to concentrate on the task at hand.
We offer the largest indoor play area in the North County with wall to wall shock absorbent rolled rubber flooring to prevent stress on your dog's joints. The air-conditioned facility will keep your dog cool when running and playing so they don't overheat even on those hot California days.
We offer separate dog daycare playgroups for both large and small dogs.
Both daycare playgroups are fully supervised at all times by our knowledgeable staff.
We have multiple webcams available to you at no additional cost! Feel free to log on as many times as you would like to see first hand how much fun your dog is having while at DogSpot!
Our staff is continually interacting with the dogs to keep them entertained the entire time they are with us.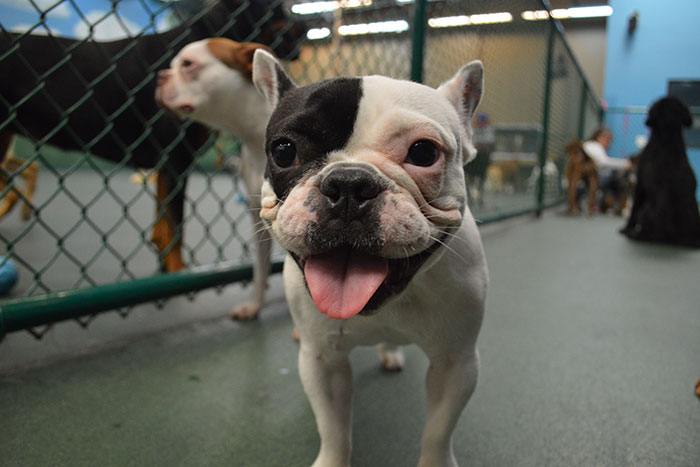 Dog Daycare Schedule
Monday – Friday: 6:00 AM – 8:00 PM
Saturday: 8:00 AM – 5:00 PM
Full day: anything over four hours
Half day: 4 hours or less
Just as you may be tired after a busy day, dogs spending all day playing may be very tired when you pick them up. This is normal. Remember, dogs play with their feet and their mouths. They may get scrapes, scratches or even punctures from a tooth when wrestling with other dogs. These may be more noticeable in short-coated breeds. Just like kids in the playground this happens, even in play, and when in supervision. Dogs that are aggressive are not allowed and we do our best to prevent any conflicts and overly rough play. If you have any questions or concerns about how your dog does in the group, please call. Always remember you can watch them on the webcam throughout the day!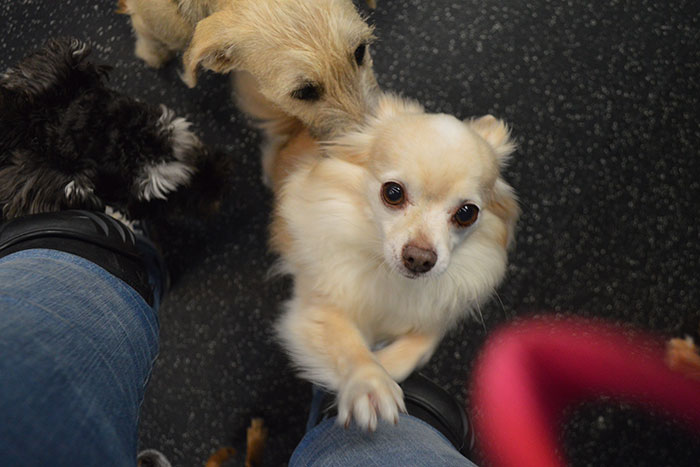 Temperament Testing
Before dropping off for doggy daycare, your dog must have proof of current Rabies, Distemper/Parvo, and Bordetella vaccinations; as well as a negative Giardia Fecal Test that has been done within 3 months prior to the temperament test. Your veterinary hospital can email or fax these to us upon your request.
All dogs must pass a temperament test to ensure that our playgroups continue to be as safe as possible. We can schedule the evaluations Tuesday-Friday from 6 am – 9 am. The temperament test consists of an initial 15-20 min assessment, and if passed, your dog will then be lead into our main playgroup. For the test day, we ask that your pet stays a minimum of two hours to ensure that they are compatible with our playgroup. On your dog's temperament test day, they are more than welcome to stay and play for up to 6 hours at no charge. But if you would like for your dog to stay past the six hours, it would be just $20 (one dog; $38 for two dogs) for the remainder of the day.
Don't Forget
Boredom and lack of exercise are the leading causes of behavioral problems.
Socialization – especially in young dogs – helps teach manners and plays a significant role in shaping your dog's personality.
Animal behavior experts agree that socialization and exercise are extremely important to your dog's health and well being.
General Policies
All vaccinations must be current and up to date.
Flea/tick treatment: We require your dog to be on a flea preventative, either topical or oral.
All male dogs older than 9 months are required to be neutered. Females do not need to be spayed, but they cannot stay at the facility while they're in heat.
Feeding
We recommend a one or two time a day feeding for most dogs. If your puppy is young and is fed three times a day we are more than happy to feed them lunch. Just bring enough for that meal in a small plastic container or sealed bag marked with your dog's first and last name. A rest period before and after eating will be given to prevent an upset stomach.
DogSpot takes great pride in employing only caring, knowledgeable and hardworking staff. Every employee combines real hands-on animal caretaking experience with a lifelong love of animals. We all bring our own dogs to work with us and go the extra mile by staying involved in animal welfare and rescue efforts in our community. With our employees – it's not just a job – it's a passion.
Schedule Cage Free Boarding or Dog Daycare Today!